Hungary red sludge spill has reached Danube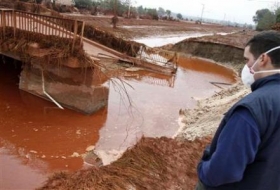 A toxic red sludge spill from an alumina plant in western Hungary had reached the Danube by midday on Thursday, a spokesman for Hungarian disaster crews was cited by national news agency MTI as saying.

Tibor Dobson told MTI there were no reports of fish dying in the Raba and Mosoni-Danube rivers which were hit by the spill earlier, but all fish had died in the smaller Marcal.
Hungarian aluminum maker MAL Zrt, owner of the sludge reservoir which burst on Monday, would like to restart production at its alumina plant at the weekend, its chairman was quoted saying on Inforadio on Wednesday.
The government suspended production at the company on Tuesday and declared a state of emergency in three counties after a torrent of toxic red sludge from the alumina plant owned by MAL tore through local villages, killing four people and injuring 120.
Hungarian Prime Minister Viktor Orban said on Tuesday that the sludge spill may have been caused by human error and there was no sign of it being due to natural causes.
Photo credit Reuters.
Article continues: http://www.reuters.com/article/idUSTRE69415O2010100