Philippines braces as Megi becomes super typhoon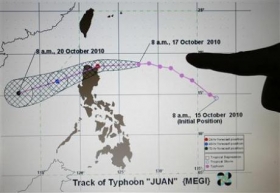 A super typhoon bore down on the northeastern Philippines on Sunday packing winds of more than 250 kph (155), and evacuations began before it makes landfall on Monday morning.
Typhoon Megi would be felt on Sunday night in the north of the main island Luzon, a rice and corn growing area, and the government advised up to 7 million people in its direct path to stock up on food and medicine.
Government forecasters said waves off the east coast could be greater than 14 meters (46 ft), and advised against travel to the region as Megi could bring flash flooding, landslides and storm surges. Manila was not expected to be affected by the typhoon.
Tropical Storm Risk (http:/www.tropicalstormrisk.com) said Megi had intensified into a category 5 super typhoon, the highest rating, with winds of more than 250 kph, and would retain that strength as it crossed north Luzon on Monday.
The governor of northern Cagayan province, Alvaro Antonio, told Reuters the typhoon could cause great damage to the rice crop.
"Based on our estimates, about 50-60 percent of our rice production could either be destroyed or damaged. We are the top producer of rice," he said.
The Cagayan valley produces about of a third of the country's rice. The head of the state grain agency said last month that rice output would be about 3.2 million tonnes short of a projected 17.4 million tonnes this year.
Last year, the country lost 1.3 million tonnes of paddy rice following three strong typhoons in September and October, prompting it to go to the market early to boost its rice stocks.
Photo of a monitor shows the track of Typhoon Megi, locally known as Juan, at the Philippine Atmospheric, Geophysical and Astronomical Services Administration (PAGASA) in Manila October 17, 2010. An approaching typhoon triggered warnings in 19 northern Philippines provinces with forecasters expecting it to intensify to a super typhoon with winds in excess of 250 kph (155 mph) as it makes landfall on Monday.  Credit: Reuters/Cheryl Ravelo.
Article continues: http://www.reuters.com/article/idUSTRE69G04Q20101017