New Truck Emission Standards and Controls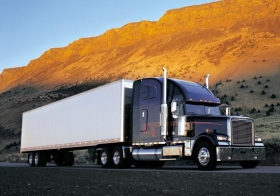 To those who drive behind diesel trucks, they know that these vehicles tend to be more slower moving and potentially smellier than other vehicles. Those who drive trucks know they are gasoline hogs (after all look at the weight they are hauling). They are a vital necessity for the US economy.  The U.S. Environmental Protection Agency ( EPA) and the U.S. Department of Transportation today announced the first national standards to reduce greenhouse gas (GHG) emissions and improve fuel efficiency of heavy-duty trucks and buses. This comprehensive proposed national program is projected to reduce GHG emissions by nearly 250 million metric tons and save 500 million barrels of oil over the lives of the vehicles produced within the program's first five years. Truck emissions have been going down for years but this is a major step forward.
Some of the older emission reduction standards include:
Jamaury 2001 - EPA sets new emission standards for trucks
October 2000 - EPA requires on board air emission diagnostic systems for vehicles under 14,000 pounds
October 2008 - EPA requires on board air emission diagnostic systems for vehicles over 14,000 pounds
"Through new fuel-efficiency standards for trucks and buses, we will not only reduce transportation's environmental impact, we'll reduce the cost of transporting freight," said U.S. Transportation Secretary Ray LaHood. "This is a win-win-win for the environment, businesses and the American consumer."
EPA and DOT's National Highway Traffic Safety Administration (NHTSA) are proposing new standards for three categories of heavy trucks: combination tractors, heavy-duty pickups and vans, and vocational vehicles. The categories were established to address specific challenges for manufacturers in each area. For combination tractors, the agencies are proposing engine and vehicle standards that begin in the 2014 model year and achieve up to a 20 percent reduction in CO2 emissions and fuel consumption by 2018 model year. For heavy-duty pickup trucks and vans, the agencies are proposing separate gasoline and diesel truck standards which phase in starting in the 2014 model year and achieve up to a 10 percent reduction for gasoline vehicles and 15 percent reduction for diesel vehicles by 2018 model year (12 and 17 percent respectively if accounting for air conditioning leakage). Lastly, for vocational vehicles, the agencies are proposing engine and vehicle standards starting in the 2014 model year which would achieve up to a 10 percent reduction in fuel consumption and CO2 emissions by 2018 model year.
With the potential for significant fuel efficiency gains, ranging from seven to 20 percent, drivers and operators could expect to net significant savings over the long-term. For example, it is estimated an operator of a semi truck could pay for the technology upgrades in under a year, and save as much as $74,000 over the truck's useful life. Vehicles with lower annual miles would typically experience longer payback periods, up to four or five years, but would still reap cost-savings.
EPA and NHTSA are providing a 60-day comment period that begins when the proposal is published in the Federal Register. The proposal and information about how to submit comments is at: http://www.epa.gov/otaq/climate/regulations.htm and http://www.nhtsa.gov/fuel-economy.
As part of the process of developing this proposed rulemaking, NHTSA has prepared a Draft Environmental Impact Statement (EIS) for its proposed fuel efficiency standards. The Draft EIS compares the environmental impacts of the agency's proposal with those of a number of regulatory alternatives. Comments may be submitted on the Draft EIS through January 3, 2011.
The regulatory proposal is the result of President Obama's memorandum earlier this year directing EPA and DOT to address both issues through a single, coordinated national program. The Engine Manufacturers Association (EMA) and Truck Manufacturers Association (TMA) encouraged and supported the President's efforts to assure that the two federal agencies coordinate efforts to propose a single national GHG reduction and fuel efficiency improvement program.
"As the primary manufacturers of medium and heavy-duty engines and vehicles in the United States, EMA and TMA members have always focused on improving fuel efficiency and have made significant advances in reducing fuel use in medium and heavy-duty engines and vehicles"
"As the primary manufacturers of medium and heavy-duty engines and vehicles in the United States, EMA and TMA members have always focused on improving fuel efficiency and have made significant advances in reducing fuel use in medium and heavy-duty engines and vehicles", stated Jed Mandel, EMA President. "Better fuel efficiency is a key customer demand in the commercial vehicle sector, and our members continuously work to introduce better and more efficient technologies and systems into the marketplace. Because improved efficiency also results in lower greenhouse gas emissions, engine and truck manufacturers' efforts to improve fuel efficiency for our customers align well with the overall goals of the regulation proposed today."
For further information: http://www.dot.gov/affairs/2010/dot18