Master Chocolatiers Give Green Chocolate a Boost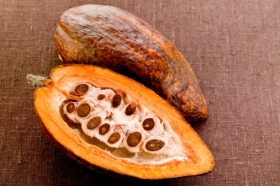 From its chocolate factory in the French Alps, Stephane Bonnat's family has been nurturing ties with cocoa farmers around the world for over a century, and together they are now driving a green revolution.
Long dismissed by cocoa-loving gourmands as poor in texture and flavor, organic chocolate has broken into the luxury end of the market, promoted by master chocolatiers like Bonnat who have made it an "ethical choice."
Bonnat decided to go organic 17 years ago, after taking over the family chocolate business in the Alpine town of Voiron. For him, this meant building on its decades-old ties with growers around the world, starting in Mexico.
"Back then, they wanted to sell me their cocoa three euros a kilo. I offered them nine!" the chocolatier told AFP at the giant Salon du Chocolat trade fair in Paris this week. "Today they make a good living, they visit the Salon in Paris, get to see the finished product," said Bonnat, whose firm -- one of Europe's oldest -- was a pioneer of high-quality organic chocolate.
Article continues: http://www.organicconsumers.org/articles/article_21907.cfm