Bluefin Tuna, Sharks may finally get some help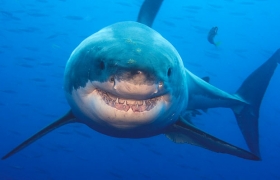 The International Commission for the Conservation of Atlantic Tunas (ICCAT), a fisheries body that manages approximately 30 species of fish caught in the Atlantic Ocean will meet in Paris, November 17 - 27, to consider measures to protect severely depleted Atlantic bluefin and threatened sharks and to potentially take measures to stop illegal fishing. 
The Pew Environment Group, an independent non-profit group based in Washington, DC, is calling on ICCAT to take strong measures to end illegal fishing, to handle fisheries management based on sound science and end the chronic overfishing in the Mediterranean and Atlantic Ocean that continue to threaten the sustainability of Atlantic bluefin tuna and several species of sharks.

A recent report and companion documentary released by the International Consortium of Investigative Journalists called Looting the Seas found that significant decline in Eastern Atlantic bluefin tuna is a result of lack of regulatory oversight, massive fraud, at a $4 billion black market where thousands of tons of fish have been illegally caught and traded.
Looting the Seas appeared online at http://www.publicintegrity.org/treesaver/tuna/#-/treesaver/tuna/01-the-black-market-in-bluefin.html and as a documentary on BBC on November 6-7, 2010.
The report found Eastern Atlantic bluefin tuna, a valuable sushi delicacy that is sold around the world, has been overfished to the point of extinction. For instance, in Japan, bluefin tuna can fetch up to $100,000 per fish. According to ICCAT figures, over the last four decades, the Eastern Atlantic Bluefin Tuna population has fallen by nearly 75 percent, with half of that loss occurring between 1997 and 2007.
PEW is also encouraging ICCAT at its upcoming meeting to develop measures that protect the stocks of oceanic whitetip shark and shortfin mako shark. In past years, ICCAT has cited these two shark species as being overfished but no formal proposal has been recognized to protect these stocks.
Now because of lack of action, species of bluefin tuna, oceanic whitetip shark and shortfin mako shark are on the brink of collapse. PEW is calling on ICCAT to: 1) call for measures that will end fishing of bluefin tuna, Oceanic whitetip and mako shark species on their spawning grounds in the Gulf of Mexico and Mediterranean; 2) improving data collection on stocks of bluefin tuna in the Atlantic Ocean; and 3) take additional measures to combat unregulated fishing.