Seven Stress Relievers: Natural, Green Ways to Fix Any Day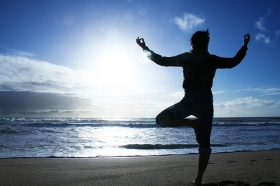 Hiding from the world under your pillows? Finding yourself having small panic attacks or just need to relax? Forget binge-drinking and saving up for Club Med, we have seven surefire ways to soothe your inner stress monster!
1. Take 30 minutes a day to get organized.
Making time to organize will make sure you are organized. Being organized will help you manage your time and make an endless task-list seem less intimidating.
2. Eat healthier!
Taking the time to eat properly will likely cut your stress in half; you'll feel better and have more energy. Taking care of yourself is basically the antithesis of stress because you're focusing on bettering yourself rather than spreading yourself thin. Try some of our delicious vegetarian recipes.
3. Do something nice for someone else
Do-gooding is the selfless secret to decreasing your stress status. Not only will you gain karma, you will temporarily free yourself of your circumstances and have gathered a refreshing new perspective.
4. Take a bubble bath
Bring the spa to you and soak away your worries. Plus it cuts down on your water and energy intake compared with taking a shower.
5. Limit your internet and cell phone use.
Technology makes it incredibly easy to keep in touch with people. It is also an incredibly easy way to drive us crazy! If you find the sound of your phone making you cringe there are two easy ways to handle it: Turn it off for a few hours or change the ringtone to something that always makes you smile. Limiting your internet use is the best way to cut down on mindless procrastination and free your time for better things.
6. Laugh!
Laughter is underrated, particularly when dealing with everyday stress. Laughter lets us take life less seriously and gain an instant happier perspective, so make sure laughter is part of your schedule. Listen to stand up comedy at work, have a marathon of a funny show or re-watch your favorite funny movies. Or just practice your fake laugh until you laugh for real!
7. Call a friend
Even if you are addicted to text messaging, taking a break to call a friend will help get your mind off things and remind you that you don't have to face the world alone! Plus it's always great to catch up and shake off some stress.
Image courtesy of Creative Commons
Melanie Kozlan is the Senior Content director of FourGreenSteps.com your one-stop destination for all things Green!