Ethiopia and Egypt trade strong words over Nile river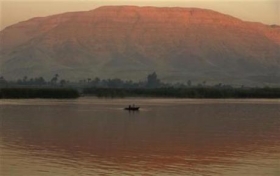 Egypt said it was "amazed" by Ethiopia's suggestion on Tuesday that Cairo might turn to military action in a row over the Nile waters, saying it did not want confrontation and was not backing rebels there.
Egypt, Ethiopia and seven other countries through which the river passes have been locked in more than a decade of contentious talks driven by anger over the perceived injustice of a previous Nile water treaty signed in 1929.
Ethiopian Prime Minister Meles Zenawi told Reuters on Tuesday that Egypt could not win a war with Ethiopia over the River Nile and that Cairo was supporting rebel groups in an attempt to destabilize the Horn of Africa nation.
"I'm amazed ... by the language that was used. We are not seeking war and there will not be war," Foreign Minister Ahmed Aboul Gheit told Reuters during a visit to Abu Dhabi.
His ministry said in a statement issued in Cairo: "The charges that Egypt .. is exploiting rebel groups against the ruling regime in Ethiopia are completely devoid of truth."
Egypt, almost totally dependent on the Nile and threatened by climate change, says the Nile waters feed a farm sector accounting for a third of all jobs. Cairo is wary of dam construction in upstream countries that could affect flows.
Ethiopia has built five huge dams on the Nile in the last decade and has begun work on a $1.4 billion hydropower facility.
Under the original pact Egypt is entitled to 55.5 billion cubic meters of water a year, the lion's share of the Nile's total flow of around 84 billion cubic meters, despite the fact that some 85 percent of the water originates in Ethiopia.
Article continues: http://www.reuters.com/article/idUSTRE6AM5R720101123