Turning Wastewater Into a Revenue Stream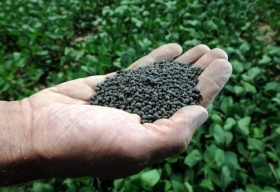 Safely getting rid of what we flush away each day is the unglamorous role of the wastewater treatment plant. But a new process that turns sewage into high-quality fertilizer proves that creative minds can find inspiration for innovation just about anywhere.
Municipal facilities, such as Clean Water Services' Durham Advanced Wastewater Treatment Plant in Tigard, Oregon, are charged with processing waste with minimal environmental impact while controlling the cost to consumers. The facility has gone above and beyond its duty by teaming with Ostara Nutrient Recovery Technologies of Vancouver, B.C. to introduce technology that creates a revenue stream out of something that previously was a liability.
In May 2009, the plant installed Ostara's Pearl nutrient recovery system, which converts waste into small round pellets rich in phosphorus, magnesium, and nitrogen. The prills, as they are called, are a slow release fertilizer that keep most of the nutrients in the soil much longer than liquid or powder fertilizers because they take from three to nine months in the ground to fully dissolve, according to Ostara President and CEO Phillip Abrary.
The contract between the organizations requires Ostara to pay for the fertilizer that is produced each day from the 1,500 kg rated facility. The fertilizer, which comes in prills of various sizes, is marketed as Crystal Green and is sold to golf courses to nurture turf, and to nurseries for growing ornamental shrubs and plants, such as azaleas and forsythia.
Article continues: http://blog.cleantechies.com/2010/12/01/turning-wastewater-into-a-revenue-stream/