Deepwater Wind Farm to Use New Design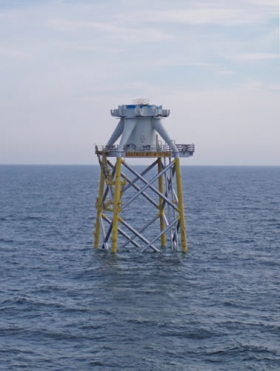 A Rhode Island company is planning to use a relatively new design for offshore wind platforms to build a large wind farm 18 to 27 miles off the coast of Rhode Island and Massachusetts. Deepwater Wind's proposed wind farm, which would use four-legged platforms to support large wind turbines, could be located in water up to 52 meters (170 feet) deep. That is more than twice the depth of conventional "monopole" wind turbines.
The stronger, four-legged design will enable Deepwater Wind to site its farm 18 to 27 miles offshore, thereby avoiding opposition from coastal residents who object to the sight of the turbines. The Deepwater project, which will cost an estimated $4 billion to $5 billion, is expected to produce 1,000 megawatts of power once it is constructed. The company is also proposing a $500 million to $1 billion offshore high-voltage transmission line to connect the wind farm to the electricity grid in Massachusetts, Rhode Island, and New York.
Link to original article: http://blog.cleantechies.com/2010/12/21/deepwater-wind-farm-use-new-design/