Large Scale Solar Power Installations On Public Lands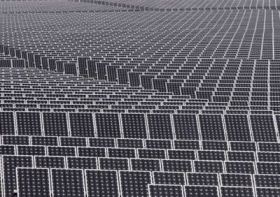 What do you get when you add public land in sunny Western states and a federal government that wants to develop renewable energy? The answer: an announcement by the Interior Department last week that it selected about two dozen potential sites for large-scale solar power installations on public lands. The sites are in six states: California, Arizona, Nevada, Utah, Colorado, and New Mexico. The Bureau of Land Management has 120 million acres in the six states, and 22 million acres could be identified as solar energy zones, but only 214,000 acres will be considered.
Solar energy projects that generate 10 megawatts (MW) or more of power that will be put directly into the transmission grid will be eligible. The solar technologies used will be either concentrating solar power (CSP) or photovoltaic (PV).
The Interior Department released a Programmatic Environmental Impact Statement (PEIS). Public comments will be taken for 90 days and 14 hearings will be held in the impacting states plus Washington, D.C.
The Interior Department limited solar energy development on public lands to just six states because it considered only lands that have "high solar insolation and direct normal radiation values, low slope, and relatively few resource conflicts," according to a press release.
Article continues: http://www.triplepundit.com/2010/12/large-scale-solar-power-installations-public-lands/