Blizzard of 2010 hits NE US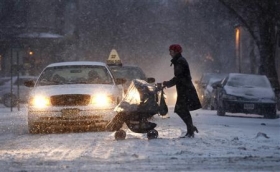 A winter blizzard moved across the northeastern United States on Monday, disrupting air and rail travel and forcing motorists to deal with blowing snow and icy roads at the end of the busy Christmas weekend.
The storm, the first widespread blizzard of the season, unleashed powerful winds as it moved northward up the coast, dumping up to 18 inches of sideways-blowing snow on some areas, with more expected ahead of the morning commute.
With many Americans returning home after one of the busiest travel weekends of the year, the U.S. National Weather Service issued blizzard warnings from Maine to New Jersey with winter storm warnings in effect for nearly the entire East Coast.
It said the heaviest snowfall had occurred in eastern New Jersey, New York City and western Long Island. The forecast was for up to 25 inches of snow in parts of the region.
New York area airports including JFK International were closed Sunday evening but were expected to reopen early Monday.
At least 2,000 flights in the region had been canceled and the Amtrak passenger rail service between New York and Boston was suspended.
Amtrak spokesman Cliff Cole said limited service on the busy route was expected to resume shortly before the start of the Monday commute.
"They (the trains) would run on the hour but not as many as would run on a normal weekday," Cole told Fox News.
Six states, including Massachusetts and Maine, declared state of emergency.
Delta Air Lines canceled about one-sixth of its flight schedule, and American Airlines, JetBlue Airways and Continental Airlines canceled roughly 265 flights each and United Airlines 110, airline representatives said.
Photo shows a woman pushing a stroller across a snow-covered street in Hoboken, New Jersey December 26, 2010. Up to a foot of snow is expected to fall in the New York area on Sunday and Monday as a storm moves through the East Coast of the U.S..  Credit: Gary Hershorn, Reuters
Article continues: http://www.reuters.com/article/idUSTRE6BP1EW20101227