New Year's Resolution: Exercise to Prevent Colon Cancer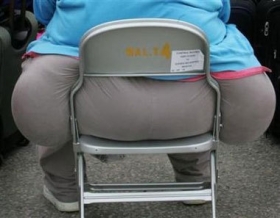 A healthy rear end is essential for a happy life. So for this New Year, a good resolution is to protect it from all threats foreign and domestic. One of its biggest threats is the dreaded cancer of the colon. However, according to a new study, there is a reliable way to keep colon cancer from getting the better of you. Researchers have found that consistent exercise is associated with a lower risk of colon cancer death.
The study was led by scientists at the Siteman Cancer Center at Washington University School of Medicine and Barnes-Jewish Hospital in St. Louis. It was also aided by associates at the American Cancer Society. The researchers examined data from the American Cancer Society Prevention Study II to see if changes in physical activity were related to both the onset of colon cancer and the risk of death from colon cancer.
The study utilized 150,000 men and women over a long-term period. Researchers looked at their physical activity over a 15 year period, from 1982 to 1997. Their findings were then compared to colon cancer diagnoses and deaths between 1998 and 2005. Those who exercised consistently had the lowest risk of death from colon cancer.
"People who were consistently active over the course of their adulthood had a lower risk of death from colon cancer than those who were sedentary," says first author Kathleen Y. Wolin, ScD. "People often wonder around the start of a new year whether exercise really will help them stay healthy or whether it's already too late. It's never too late to start exercising, but it's also never too early to start being active. That's the message we hope people will take away from this study."
Of course, there are a myriad of reasons to exercise other than just preventing colon cancer, including reducing the risk of heart disease, diabetes, and improved strength, stamina, and self-esteem. Even after the onset of cancer, exercise is beneficial in keeping the body strong to fight the cancer. "There is evidence that being physically active can reduce the risk of recurrence and death following a cancer diagnosis," Wolin says. "So even those who haven't been physically active can begin exercising after their diagnosis and see some real benefits as well."
For more information: http://www.yourdiseaserisk.siteman.wustl.edu/