California Olive Oil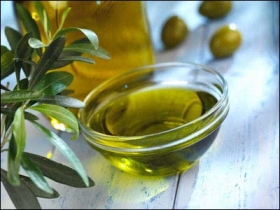 Most of the olive oil Americans consume is imported from southern Europe. The Mediterranean region alone provides 95 percent of all olive oil worldwide. The largest grower, Spain, supplies a third, followed by Italy, Greece, and Portugal. However, a new player may be entering the scene from half a world away. According to an article written in the University of California's (UC) California Agriculture journal, the state is poised to be a significant producer of olive oil.
California's first olive oil sensory taste panel was established in 2001, with certification from the International Olive Council (IOC). It is a panel made up of expert tasters who are trained to notice the slightest defects in extra-virgin olive oil. They can also notice fine attributes which improve on the taste such as fruitiness and pungency. The panel can then make recommendations to farmers to improve their growing practices to create better oil.
The tasters have approved of California's olive oil and elevated it to premium status. "From 1999 through 2004, the number of defective oils [tasted by the panel] dramatically declined from 50 percent to less than 3 percent," author Paul Vossen, and co-author Alexandra Kicenik Devarenne noted in California Agriculture journal. "Due to UC research and support, and the efforts of the sensory panel volunteers, it has become a rarity to find defects in California olive oil."
"California olive oils are not just fats, but are like spices or condiments," Vossen added. "These fine oils impart delicious, subtle flavors to food."
These findings can give a huge boost to olive oil production in California. Another boost is coming from a new technique that is increasing efficiency at olive farms, high-density hedgerows. Traditionally, olive trees were planted 50 to an acre, and were spaced 30 feet apart to allow them to reach their full natural size. Earlier this decade, European farmers started planting olive trees in hedgerows, similar to grapes.
California has started using "super high-density" hedgerows – 600 trees per acre. They olives reach maturity faster, and they can be harvested mechanically, reducing labor costs. To date, about 12,000 acres in California have been planted with this new system.
The Golden State, with its Mediterranean climate, will gain a larger market share for olive oil in the United States. The only thing that may stop this is the olive fruit fly. This exotic insect is one of the industry's most significant challenges. Articles on this pest have also been written in the California Agriculture journal. According to Vossen and Devarenne, olive fruit fly damage can be tolerated with early harvest and rapid processing. This would spare the need to treat crops with pesticides which would cause environmental contamination.
Link to published article: http://ucanr.org/repository/CAO/landingpage.cfm?article=ca.v065n01p8&fulltext=yes