Australia's north braces for massive cyclone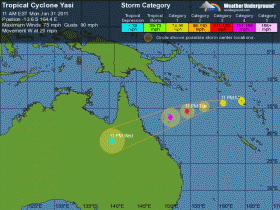 Australia's flood-stricken state of Queensland closed major coal ports, evacuated tourists from vulnerable resorts and warned of heavy rain on Monday ahead of a massive cyclone due to slam into its coast this week.
Forecasters said Cyclone Yasi could be generating gales of more than 250 kph when it hits the coast on Wednesday or Thursday, which would put it on a par with Hurricane Katrina, which devastated New Orleans in 2005.
"This is a very serious threat," Queensland Premier Anna Bligh told reporters. "It may be one of the largest and most significant cyclones we've ever had to deal with."
Queensland, which accounts for about a fifth of Australia's economy and 90 percent of its exports of steelmaking coal, has borne the brunt of a cruel summer, with floods having swept across the eastern seaboard in the past month, killing at least 35 people.
Queensland is also home to Australia's sugar industry, which was also hurt by the floods and now risks being battered by the cyclone.
The floods swamped around 30,000 homes, destroyed roads and rail lines and crippled Queensland's coal industry, with up to 15 million tonnes of exports estimated to have been delayed into the second half of this year.
Queensland's coal mines are mostly well inland and unlikely to be smashed by Cyclone Yasi, but they could be drenched again by heavy rain. The mines are still struggling to pump water out of their pits.
The Queensland Resources Council has estimated that the state's coal miners would take until March to return to normal but warned on Monday of further delays because of cyclones.
"If we get any more rain, it's just going to stretch out that time frame," council spokeswoman Caroline Morrissey said.
Storm forecast credit Weather Underground: http://www.wunderground.com/tropical/tracking/sp201111_5day.html#a_topad
Article continues: http://www.reuters.com/article/2011/01/31/us-australia-cyclone-idUSTRE70U16S20110131