Year of the Tiger ends with roadmap to save species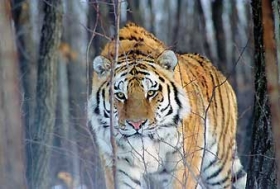 Kuala Lumpur, Malaysia – The Year of the Tiger in the Chinese lunar calendar comes to an end on Wednesday having yielded big results for its namesake – an unprecedented swell of public and government support to save tigers in the wild, including a historic global recovery programme.
The International Tiger Forum, held in St. Petersburg, Russia in November 2010 marked the first time an international summit was convened to focus on a single, non-human species. The Forum produced the Global Tiger Recovery Programme (GTRP), a collaboration between the 13 countries that still have wild tigers. It has set a goal of doubling wild tigers by the next Year of the Tiger in 2022.
"The recovery programme is a big boost for tigers," said Mike Baltzer, Head of WWF's Tigers Alive Initiative.
"But it is only the beginning. We must now join the tiger countries and our partners worldwide to ensure the momentum from the Forum and this past year's tiger conservation achievements continues. Tigers have already run out of time. The recovery must not lose steam."
Wild tiger numbers are down to only 3,200, with scattered populations across 13 countries having lost more than 93 percent of their historic range. Just 100 years ago, an estimated 100,000 tigers roamed across Asia.
Article continues: http://wwf.panda.org/?uNewsID=199237