Whooping cranes to be reintroduced in Louisiana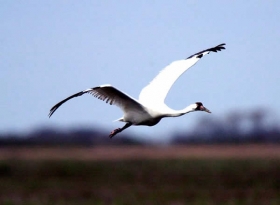 Ten whooping cranes, the most endangered species of crane in the world, will be reintroduced in a Louisiana conservation area more than 60 years after the birds' numbers dwindled to near zero, the U.S. Interior Department said on Tuesday.
"The whooping crane is an iconic species that should be returned and restored to health along the Gulf Coast," said Interior Secretary Ken Salazar. "The reintroduction of these remarkable birds will be a milestone moment for the Gulf Coast."
Whooping cranes -- named for their loud, trumpeting call -- are the world's most endangered species of crane and are only found in North America.
The total population, once believed to have numbered more than 15,000, fell to just 15 birds in the 1940s as a result of hunting and habitat loss, according to the National Wildlife Federation.
The entire Louisiana population had been wiped out or removed by the 1950s. The surviving birds all belonged to one flock that migrated between Canada and Texas and is still the only self-sustaining wild population of whooping cranes.
"That's as close to extinction as anything's ever come," said Heather Ray, director of development for Operation Migration. Her group and others have worked to re-establish the whooping crane.
There are now only about 560 birds in the wild and captivity, said Tom Hess, the Louisiana project's field manager.
The cranes that will be reintroduced this month were bred at the U.S. Geological Survey's Patuxent Wildlife Research Center in Maryland and will be moved first to an enclosed pen in Louisiana's White Lake Wetlands Conservation Area, Hess said.
When the birds get used to their new surroundings, they will be released into a 1.5-acre (0.67-hectare) open pen. They will be monitored, fed and encouraged to roost, said Hess, who works for the Louisiana Department of Wildlife and Fisheries.
The next set of cranes should be reintroduced in October, he said. The project is expected to last about 10 years.
Photo credit: WHOOPING CRANE EASTERN PARTNERSHIP
Article continues: http://www.reuters.com/article/2011/02/08/us-cranes-idUSTRE7176K820110208