Climate change keenly felt in Alaska's national parks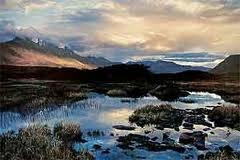 Thawing permafrost is triggering mudslides onto a key road traveled by busloads of sightseers. Tall bushes newly sprouted on the tundra are blocking panoramic views. And glaciers are receding from convenient viewing areas, while their rapid summer melt poses new flood risks.
These are just a few of the ways that a rapidly warming climate is reshaping Denali, Kenai Fjords and other national parks comprising the crown jewels of Alaska's heritage as America's last frontier.
These and some better-known impacts -- proliferation of invasive plants and fish, greater frequency and intensity of wildfires, and declines in wildlife populations that depend on sea ice and glaciers -- are outlined in a recent National Park Service report.
Since the mid-1970s, Alaska has warmed at three times the rate of the Lower 48 states, according to the U.S. Environmental Protection Agency. And with nearly two-thirds of U.S. national parkland located in Alaska, the issue of climate change is especially pressing there, officials say.
In some far northern parks such as Gates of the Arctic, average temperatures are expected to shift in coming years from below freezing to above freezing, crossing a crucial threshold, said Bob Winfree, Alaska science adviser for the Park Service.
"The effects of melting ice and thawing permafrost, I think, will be major," Winfree said.
Winfree is helping lead a new three-year, $500,000 climate scenario project in Alaska intended to identify and cope with the warming trend. That is part of a $10 million program to plan for and mitigate climate change in parks nationwide.
Photo shows scene in Gates of the Arctic National Park.  Credit: http://www.nature.nps.gov/geology/parks/gaar/
Article continues: http://www.reuters.com/article/2011/02/12/us-alaska-climate-idUSTRE71B23320110212