Monarch butterfly count bounces back from bad year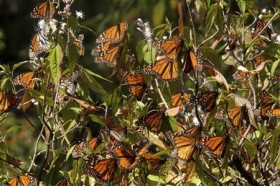 Monarch butterfly colonies in Mexico more than doubled in size this winter after bad storms devastated their numbers a year ago, conservationists said on Monday although the migrating insect remains under threat.
Millions of butterflies make a 2,000-mile journey each year from Canada to winter in central Mexico's warmer weather but the size of that migration can vary wildly.
Fewer of the orange and black insects arrived in Mexico last year than ever before, researchers said, but the butterfly colonies increased by 109 percent this year to cover roughly 10 acres of forest. Researchers estimate the size of the butterfly colonies based on the area they occupy in a forest.
"Certainly this is good news and indicates a recovering trend," said Omar Vidal, director of the Mexico branch of the World Wildlife Fund (WWF).
But while the monarch colonies rebounded this winter, it is still the fourth-lowest year for the butterfly since researchers started census-taking in 1993.
Illegal loggers have picked away roughly 3 percent of a 138,000 acre reserve since it was created in 2000 but officials say they now have that illicit harvest under control.
Severe winter weather linked to climate change is more of a long-term threat, along with large-scale farming that crowds out the milkweed that the butterflies dine on during their cross-continental flight.
"The caterpillars feed on milkweed so changing soil use in the United States and Canada is definitely having an impact on the butterflies," said Vidal, who helps manage the authoritative study on monarch populations in Mexico.
Photo shows Monarch butterflies resting on a bush in the Pedro Herrada butterfly sanctuary on a mountain in the Mexican state of Michoacan February 1, 2011.
Credit: REUTERS/Felipe Courzo
Article continues: http://www.reuters.com/article/2011/02/15/us-mexico-butterfly-idUSTRE71D7C520110215