Parrots and pigeons threaten Argentine sunflowers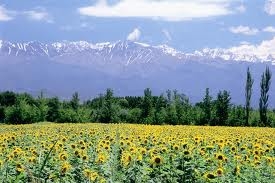 Flocks of hungry parrots and pigeons are plaguing sunflower farmers in some parts of Argentina, eating their crops and thinning their wallets.
As swelling numbers of birds feed on fields, growers try to scare them away using balloons with "menacing eyes" painted on them. Farmers in the South American country, a leading global food exporter, also try to scare the birds using reflective tape, scarecrows, and by setting off fireworks.
"The problem is huge, especially in Buenos Aires province. The flocks are getting bigger and bigger, and the plague is spreading," said Javier Dominguez, a farmer in Lujan, some 43 miles west of the city of Buenos Aires.
Buenos Aires province is the Argentine region that produces the most grains, and some farmers say attacks by the voracious birds can cause crop losses of up to 60 percent.
"I've been farming for 25 years. I always chose to grow sunflowers but I can't anymore," said Dominguez, adding that he was forced to switch to less-profitable sorghum because the birds do not feed on it.
The Buenos Aires Grains Exchange says in some areas the birds are further damaging the sunflower crop, already hit by dryness related to the La Nina weather phenomenon.
"In Villa Minetti (in Santa Fe province) ... the damage caused by pigeons is extremely serious and will have a negative effect on (sunseed) output," the exchange said last week.
Argentina is a leading exporter of sunflower oil, and it is seen producing 2.8 million tonnes of sunseeds this season.
The birds have a taste for sunseeds and also pick on corn kernels from the cobs, often ruining them. The scourge is also affecting the eastern province of Entre Rios and Chaco in the north.
Photo credit: http://www.guiafe.com.ar/argentina-turismo/wallpaper_Girasoles_english.php
Article continues: http://www.reuters.com/article/2011/02/16/us-argentina-grains-birds-idUSTRE71F5NK20110216