Shellshock: New Report Lists 25 Most Endangered Turtle Species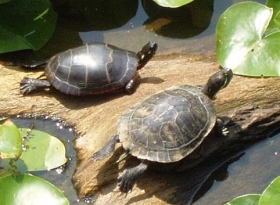 SINGAPORE (February 21,2011) – A report issued today, co-authored by the Wildlife Conservation Society (WCS) working in conjunction with the Turtle Conservation Coalition, lists the 25 most endangered turtle species from around the world – some of which currently number less than five individuals.
Decimated by illegal hunting for both food and the pet trade along with habitat loss, many turtle species will go extinct in the next decade unless drastic conservation measures are taken, according to the report, which was released at a regional workshop hosted by Wildlife Reserves Singapore and WCS. Seventeen of the 25 species are found in Asia, three are from South America, three from Africa, one from Australia, and one from Central America and Mexico.
The report was authored by the Turtle Conservation Coalition, which is made up by IUCN/SSC Tortoise and Freshwater Turtle Specialist Group, Turtle Conservation Fund, Turtle Survival Alliance, Turtle Conservancy/Behler Chelonian Center, Chelonian Research Foundation, Conservation International, WCS, and San Diego Zoo Global.
The list of 25 includes "Lonesome George" – the only remaining Abdington Island giant tortoise. Though there is still scientific disagreement as to whether he is a recognized species or a subspecies of Galápagos tortoise, all agree that he is the last of his kind. Another species on the brink is the Yangtze giant softshell turtle with just four known individuals. Wildlife Conservation Society veterinarians have been working with Chinese officials and other partners to breed the last known male/female pair of these giant turtles, which currently reside at China's Suzhou Zoo.
Article continues: http://www.wcs.org/press/press-releases/turtle-extinction.aspx