Slow Sales of EVs Create Doubt about Size of Market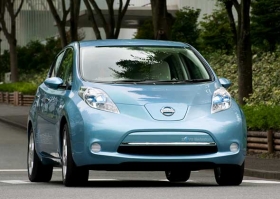 Two new cars, the Nissan LEAF and the Chevrolet Volt – a battery electric and plug-in hybrid electric vehicle respectively – may together, one day, be recognized as the brave upstarts that launched a new chapter in automotive history. As the first of a new crop of mass market electric vehicles to hit dealerships, they might push aside the internal combustion engine as the predominant means of propulsion or they may become relics of yet another failed attempt to bring electric vehicles to market. Time will tell.
Certainly, if President Obama's goal to see 1 million electric vehicles on the road by 2015 is to be achieved, the pace of sales will need to quicken rapidly, since things are apparently off to a slow start. Autobloggreen reports lackluster sales so far, detailing just 928 Volt and 173 LEAFs (or should that be LEAVES?) have been sold since sales began in December. More worryingly for Nissan, February sales of 67 units trailed January sales of 87 units. There's a similar inverted sales pattern for the Volt too, with 281 units shifted in February, behind 321 in January.
Does this mean the specter of "range anxiety" – the fear of being miles away from home with a dead battery and no place to recharge it – is keeping customers away? This fear is much talked about, and leads many to the conclusion that electrics will be, at best, second or third cars in households, used only for shorter hops. Range anxiety would be a concern for the LEAF since it's an all electric vehicle, but not so for the Volt which incorporates a gasoline range-extending engine to keep it rolling. Others will point to their price tags and claim that these vehicles are simply too expensive to generate mass interest at over $25,000 for the LEAF (after Federal tax savings) and a lofty $41,000 for the Volt. Cost and range will doubtless be a big turn off for many.
However, the manufacturers may take heart since, it appears it's not necessarily demand that explains soft initial sales figures. Nissan's CEO, Carlos Ghosn, is going for a stretch goal when he says the company will sell a million LEAFs in 6 years, but BNET reported the company stopped taking orders when 20,000 units were pre-ordered by US customers in early December. Similarly, early strong demand for the Volt prompted GM chief Dan Akerson to suggest 2011 production will likely be raised from 10,000 units to 25,000 units. It is perhaps debatable whether pre-orders with deposits will reliably translate to firm sales, but they do demonstrate a robust level of interest.
Article continues: http://www.triplepundit.com/2011/03/1-million-electric-vehicles-2015-rate/