Birnam Wood in the 21st Century: northern forest invading Arctic tundra as world warms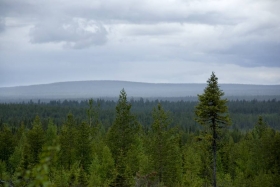 In Shakespeare's play Macbeth the forest of Birnam Wood fulfills a seemingly impossible prophecy by moving to surround the murderous king (the marching trees are helped, of course, by an army of axe-wielding camouflaged Scots). The Arctic tundra may soon feel much like the doomed Macbeth with an army of trees (and invading species) closing in. In a recent study, researchers found that climate change is likely to push the northern forests of the boreal into the Arctic tundra—a trend that is already being confirmed in Alaska.
Analyzing 16 global climate models starting in 1950 and ending at the close of the 21st Century, researchers found that the tundra of North America, Europe and Asia will be increasingly encroached upon by pine and deciduous forest.
"The response of vegetation usually lags changes in climate. The plants don't have legs, so it takes time for plant seed dispersal, germination and establishment of seedlings," Song Feng, research assistant professor at University of Nebraska-Lincoln's School of Natural Resource, said in a press release.
As temperatures rise regionally by 5.6 to 9.5 degrees Fahrenheit, a quarter to a half of the Arctic could be impacted, according to the study in Climate Dynamics, depending on future greenhouse gas emissions. Tundra vegetation is expected to lessen by 33-44% by 2099.
The ecosystem changes could impact climate as well, eplains Feng: "the expansion of forest may amplify global warming, because the newly forested areas can reduce the surface reflectivity, thereby further warming the Arctic. The shrinkage of tundra and expansion of forest may also impact the habitat for wildlife and local residents."
Article continues: http://news.mongabay.com/2011/0306-hance_tundra.html