Top Ten Reasons New Jersey is a Cleantech Leader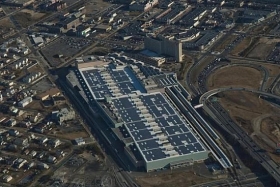 New Jersey has always tried to be in the lead of the cleantech race in the United States. To reach its renewable energy goals in 2020, it has become the number two country in solar power, behind California, and has invested into the research and development of further clean technologies. Through the use of incentives, programs, and rebates, the impact of cleantech in the Garden State is clearly visible.
1) Incentives for Renewable Energy and Efficiency. To promote the use of clean technologies throughout the state of New Jersey, the government made a number of financial incentives to those who make the switch to renewable energies and energy efficiency. Incentives include the PSE&G Solar Loan Program, Wind Manufacturing Tax Credit, Property Tax Exemption for Renewable Energy Systems, PSE&G Whole House Efficiency Program, and a number of other performance based, property tax, and sales tax incentives that would make the switch less damaging to the budget.
2) Renewable Energy Manufacturing Incentive. The New Jersey Renewable Energy Manufacturing Incentive gives rebates to local governments, businesses, non-profit organizations, and residents that elect to buy as well as install inverters, solar panels, and racking systems that have been manufactured in New Jersey. Customers will receive $0.25 for every panel watt and $0.15 for every inverter and racking systems watt.
3) New Jersey #2 in Solar Power in United States. Right behind sunny California, New Jersey is number two when it comes to using solar power with more than 4000 photovoltaic installations greater than 85MW. Through the use of solar renewable energy credits, the realization that energy policies and the environment were linked, and seeing it as a new business opportunity, New Jersey created a "master plan" that included reducing overall energy use and greenhouse gas emissions by 20 percent by the year 2020, and switching to 30 percent electric power by 2020. Currently, due to the impact of solar power, it has been spreading to hospitals, schools, business sites, and residences. Furthermore, because of the popularity of PV solar systems, other alternative energy systems have looked to create their own programs, such as the Offshore Wind Development Act and Offshore Wind Renewable Energy Credit program fashioned in the same way as the solar program.
Article continues: http://blog.cleantechies.com/2011/03/09/top-ten-reasons-new-jersey-is-a-cleantech-leader/
Photo shows the roof of the Atlantic City Convention Center clad in solar panels.  It is the USA's largest solar project on a single roof.