Sustainable Development v. Historic Preservation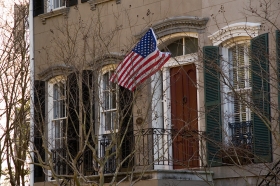 As the "green movement" in America progresses, many devotees of architecture and preservation are envisioning tall glass buildings made of copper, stone, or other materials that will save the environment or our wallets. However, one inevitably wonders why we are building new "green" structures when we could just use the ones we already have. Reusing an old water bottle instead of buying a new one is a great idea. Why not reuse the old building instead of building a new one?
That is exactly what the National Trust for Historic preservation and preservationists across the country are advocating. America has thousands of commercial and residential structures simply lying in ruin or waiting for new use or restoration. The catch phrase amongs preservationists is now, "the greenest building is the one already built." Many historic structures are uniquely suited for being brought up to LEED certification.
With this in mind, the National Parks service is considering cost effective options for many of its historic sights including Ft. Sumter, which sits in Charleston Harbor, South Carolina. A preliminary project is underway to evaluate the feasibility of installing solar panels and a backup fuel cell generator. The Fort currently runs on diesel and saps power from the local power grid. The team is considering installing the panels on a pier or on the roof of the museum as to not disturb the historic structure.
The major challenge facing green builders is striking a balance between new green construction, refurbishing historic structures in a sustainable way, and outright traditional preservation efforts. Many warn about confusing a building fad with the true work of preservation.
Article continues: http://www.triplepundit.com/2011/03/sustainable-development-historic-preservation-choose/