"Use 60 minutes of darkness to help the world see the light," urges Ban Ki-moon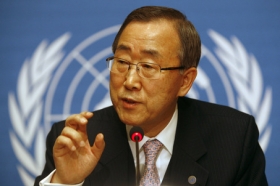 New York: UN Secretary General Ban Ki-moon leads a host of world and civic leaders supporting Earth Hour 2011 as a powerful symbol of a shared wish for a sustainable and secure future. "All over the world individuals, communities, businesses and governments are creating new examples for our common future – new visions for sustainable living and new technologies to realize it," Ban Ki-moon said. "Tomorrow, let us join together to celebrate this shared quest to protect the planet and ensure human well-being. Let us use 60 minutes of darkness to help the world see the light."
Messages of support for Earth Hour 2011 have also come from a host of world and civil leaders, including Archbishop Emeritus Desmond Tutu, UK Prime Minister David Cameron, Australian Prime Minister Julia Gillard and Colombian President Juan Manuel Santos.
"Climate change is the greatest human induced crisis facing our world today. It is totally indiscriminate of race, culture, class, nationality or religious belief. It affects every living organism on the planet – including all of us," Archbishop Emeritus Tutu said.
"Through the symbolic act of switching off our lights for one hour on Saturday 26 March from 8.30 – 9.30pm we will collectively send our clarion call for change around the globe. 'Please, political leaders and captains of industry, we implore you. Take action against climate change NOW.'"
Hundreds of millions of people in 133 countries and territories across the globe are expected to switch off their lights at 8:30pm local time tomorrow, Saturday 26 March. In a series of video messages posted to YouTube, world leaders have pledged their support for the world's largest voluntary environmental action.
Article continues: http://wwf.panda.org/?uNewsID=199760