Will Colombia ban spur illegal gold pits?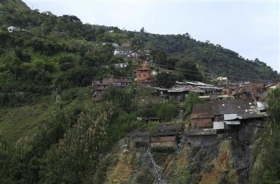 Colombia's ban on mining in highland ecosystems could be a double-edged sword -- it may attract illegal miners to the delicate areas where established mining companies cannot operate.
The example of Canada's Greystar -- which last month withdrew permit requests for its gold and silver project over environmental concerns -- has crystallized Colombia's dilemma of trying to balance environmental concerns while boosting investment in its oil and mining sectors.
"That gold will be extracted by someone. It won't be a company with good practices. It won't be a company that had eliminated the use of mercury," said Cesar Diaz, executive director of the Colombian Chamber of Mining.
The fear is that small miners will come into already explored areas with rudimentary techniques that utilize mercury to separate gold and pollute rivers and soil -- Colombia has tens of thousands of both legal and illegal miners.
Since 2009, Colombia's mining code has forbidden working in so-called "paramo" ecosystems located above 3,200 meters. Under the old law it was not banned and the government had granted titles to companies such as Greystar above that altitude.
Analysts say that thousands of small illegal miners could occupy the Greystar areas located above paramo with the hope of finding the yellow metal and pocketing gains from record high gold prices of around $1,400 an ounce.
"The miner already knows where the company drilled as there are pylons where the company got geology sampling. And they are awaiting the company to leave those areas to extract the gold," said Diego Ramirez, a miner, who sold his titles in a nearby area to Canada's Norvista.
"If they start mining there, contamination will be worse as the use of mercury is key for artisanal mining."
Photo shows general view of the mine in Marmato province, Caldas, October 5, 2010.
(Credit: Reuters/John Vizcaino )
Article continues: http://www.reuters.com/article/2011/04/13/us-colombia-gold-idUSTRE73C5BE20110413