New from BBC Earth: Human Planet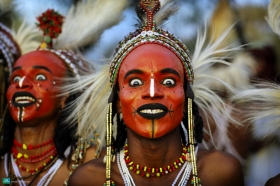 Human Planet has arrived: The first natural history series to ever focus solely on human behavior. With a phenomenal collection of over 80 stories from over 70 locations around the world, the lens has been breathtakingly turned on one of the most successful species on the planet...Humankind.

Bringing together the same fantastic program making as seen in the award winning Planet Earth, and widely-acclaimed blockbuster LIFE and The Blue Planet. The BBC has again teamed up with Discovery Channel to reveal and examine the amazingly complex relationship of humankind and nature in the modern day: Through the eyes of those who have learned to adapt and survive in some of the most unforgiving environments on earth.
Heralded by the national press such as The Telegraph as being "like nothing you've ever seen before", this fascinating series made by documentary makers with over 50 years natural history experience, brings home the message that human's relationship with nature is still very much alive and well.

This landmark series that weaves stories never told before on television will premiere on the Discovery Channel on Sunday April 10, 17 and 24 at 8 p.m. (EST) with two episodes each night. Human Planet will then arrive on DVD and Blu-ray on April 26, just two days following the last broadcast.
Dive in to Human Planet and discover what makes humans the ultimate born survivors.
There are several ways to see the Human Planet:
The Discovery Channel version will be presented by Charles Parnell and consists of six episodes that will take viewers to the farthest reaches of the globe: Rivers and Oceans, Mountains, Arctic, Grasslands and Jungles, Deserts, and finally, Life at the Extremes, a "best of" episode.
The Human Planet DVD and Blu-ray includes all eight episodes from the original UK broadcast version of the series, presented by John Hurt, extending the home viewing experience with three hours of footage not featured in the North American broadcast including the episode, Cities, which will be exclusive to the DVD and Blu-ray.
The DVD and Blu-ray will take viewers deeper into the heart of Human Planet with its set of ten Behind the Lens "making of" bonus features, and, exclusive to Blu-ray, a further "making of" feature, Zanskar, accessible via BD-Live, showcasing the astonishing life struggles of a resilient group of people living at the edge of the Himalayas.
Additionally, acclaimed nature photographer Timothy Allen accompanied the production team around the world and produced one of the most spectacular and striking sets of nature photos ever compiled to accompany the series.
To learn more about this incredible video series: http://www.bbcearth.com/programmes/human-planet