Weather turning against Texas wildfire fighters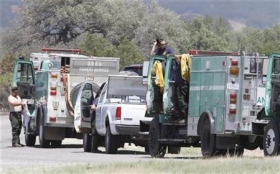 Hundreds of weary firefighters were racing against the clock on Sunday, pushing back massive brush fires that have destroyed near-record swatches of Texas countryside.
Fire fighters were hoping to make as much progress as possible before low humidity and strong winds set the stage for more potential flare-ups late Monday and Tuesday.
"We have gotten rain, but more importantly, we have gotten moister air, and that has been very, very helpful," Marq Webb, a spokesman for the Texas Forest Service, said on Sunday.
Webb said the amount of acreage burned in Texas in 2011 is almost at the record level set in 2006, when nearly 2 million acres were burned by wildfires. So far this year, more than 1.8 million acres have burned.
"We're only in April, with some of the worst wildfire months still to come," he said. "We will certainly break that record."
Rudy Evanson of the National Park Service, part of an army of more than 450 firefighters who are working to beat back the PK Complex fire west of Fort Worth, said that although the area got rain Saturday night, "it didn't last long enough to get the dirt wet."
Seeds of more fires may have already been sown by lightning that accompanied the storms, said David Boyd, a spokesman for the Texas Forest Service.
"It's not uncommon for the lightning to hit, and it doesn't necessarily start a fire right away," Boyd said. "It will kind of sit there, smolder there," Boyd said.
But more favorable weather conditions have allowed fire fighters to push the PK Complex fire, which has destroyed more than 150 homes, to about 50 percent contained, or twice the amount of containment reported on Saturday.
Webb said there is no longer any visible fire in the PK Complex blaze, which has destroyed 147,000 acres. That estimate was lowered by the U.S. Forest Service from more than 230,000 acres previously reported after completion of an updated aerial GPS survey of the region.
Photo shows firefighters from the USDA Forest Service preparing before entering the out of control wild fires in Palo Pinto County, Texas April 19, 2011. Credit: REUTERS/Tim Sharp
Article continues: http://www.reuters.com/article/2011/04/25/us-texas-wildfires-idUSTRE73K7WY20110425