Fishing Season Begins Next Week in New England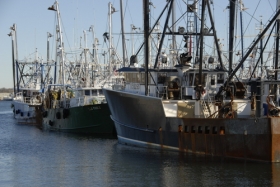 For the northeastern United States, the new fishing year officially begins on May 1. This year will see the fishing season opened to more small-vessel owners and catch limits will be raised in response to rebounding fish stocks. Fishing has been an integral part of the economy of New England coastal communities, and now more fishermen will have the opportunity to partake.
According to the National Oceanic and Atmospheric Administration (NOAA), an agency under the US Department of Commerce, catch limits will be raised for twelve important groundfish stocks. "The increase in catch limits is a result of the rebuilding process underway and is one of many steps we are taking to grow economic opportunity in diverse, working waterfronts that support fishing jobs in the Northeast," said Jane Lubchenco, Ph.D., undersecretary of commerce for oceans and atmosphere and NOAA Administrator. The affected fish include different species of cod, flounder, redfish, hake, plaice, and halibut.
Last year, New England fisheries adopted a sector management system, where fishermen were given a specific amount of fish to catch when they choose and in more areas. This enabled them to select healthy fish stocks such as haddock. The prior system, known as a days-at-sea plan, allowed fishermen to spend a set number of days in certain areas. Now, both management systems are available, and both will be operational. More and more fishermen are adopting the sector-based management system.
Fish stock rebuilding efforts have proved successful to date, allowing more fishermen to partake and catch more. However, regulations are still in place to ensure fishing rates do not to return to the unsustainable levels of the past. One of the fish species, the Georges Bank yellowtail flounder, has its catch limit increased due to effective negotiations with Canada. US fishermen can now catch an additional 44 percent, an increase of 2.5 million pounds.
Other NOAA actions for the upcoming New England fishing season include approvals for four new permit bank sectors for small-scale fishermen. They also closed off a small area in the southern Gulf of Maine for three months because it is spawning grounds for Gulf of Maine cod. NOAA will also delay for two years the requirement for the fishing industry to cover costs of dockside monitoring. This is to allow businesses to reduce their operating costs while they adjust to the new management system. In 2013, companies will be fully responsible for monitoring their catches.
For more information: http://www.nero.noaa.gov/nero/fishermen/