Bacteria-Laden Soap Not So Clean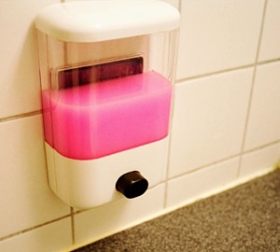 Soap may not always be as clean as it seems, suggests a new study, which found that every soap dispenser at an elementary school in Ohio was contaminated with bacteria that are known to cause illnesses. When kids washed with the soap, microbe levels on their hands soared.
It's not yet clear how much of a health risk people face from microbe-laden soap, and public health experts continue to urge regular hand washing as one of the most important things that people can do to stay healthy. But the findings suggest that administrators of schools, gyms and other public places might want to re-examine the kinds of soap dispensers they use and the methods they use to clean them.
"This is kind of counterintuitive because soap is supposed to clean you," said Carrie Zapka, a microbiologist at Gojo Industries, a company in Akron, Ohio, that makes skin health and hygiene products, including soaps and soap dispensers. But the new study showed, she said, "that soap can be a source of bacteria that can spread beyond the person washing his hands."
"There's no need to panic," she added. "I want people to wash their hands because hand washing is proven to be effective at preventing sickness. We don't know what the true risk level is in the community."
The idea that bacteria can grow in or near soap is not new. For years, hospitals have mandated the use of dispensers with replaceable bags or cartridges that contain their own nozzle and are sealed so they can't be contaminated. But plenty of community settings contain dispensers that are repeatedly refilled with pourable liquid soap, and these kinds of dispensers are rarely, if ever, cleaned.
Article continues: http://news.discovery.com/human/soap-bacteria-clean-110506.html#mkcpgn=rssnws1