The Brewing Organic Beer Market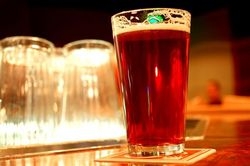 America's craft beer market has grown rapidly in recent years, seemingly outpaced only by its niche organic segment, thanks in part to growing consumer fears about genetically modified foods. While a few of the largest regional breweries currently enjoy widespread distribution, craft brewing remains fundamentally an industry devoted to its local followers, and the results are undeniable.
After growing 7.2% in 2009, the craft brewing industry expanded by 11% in 2010, bringing its share of the U.S. beer market to 4.9%. However, given craft brewers' generally higher price points than those of macro brewers like Anheuser-Busch Inbev and MillerCoors, this accounted for 7.6% of all sales in dollars. This reflects a growth in retail value of $600 million over the previous year, despite a 1% drop in volume of the entire industry. The number of breweries in the U.S. jumped concurrently to 1,759, the highest such total since the late 1800s. Of these, 1,716 were identified as craft brewers by the Brewers Association.
This dramatic increase in craft beer sales during the recession indicates that consumers' tastes are evolving so much that they have become willing to accept the higher costs of a premium good like craft beer over cheaper, macro-brewed substitutes, even when their wallets are pinched, leading some analysts to project that craft beer's share of the domestic market could even climb from 5% to 20% over the next ten years.
While organic beer still makes up only a fraction of the craft beer market, it is gaining ground very quickly. Between 2003 and 2009, U.S. organic beer sales spiked from $9 million to $41 million. However, with the correspondingly low supply of organic ingredients currently available on the market, organic brewers are subject to higher costs for their inputs than ordinary craft brewers. Suppliers are aware that organic brewers are willing to absorb these higher costs in order to make their beer organic, but these costs are subject to a low ceiling because organic brewers generally refuse to offset their variable costs with higher price points. Instead, they sell their products at prices comparable to the craft beer industry average. While these practices serve to minimize organic brewers' bottom lines, it simultaneously limits suppliers' ability to further manipulate prices.
Article continues: http://www.triplepundit.com/2011/05/brewing-organic-beer-market/