Better Place EVs Priced at $35,623 USD for Summer Delivery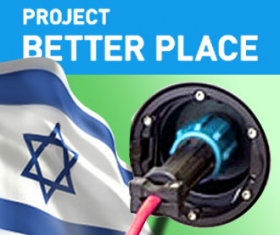 Ever since Israeli entrepreneur Shai Agassi opened his Better Place test drive center near Tel Aviv, back in February 2010, more and more Israelis have had the chance to not only find out about Agassi's unique electric car battery swap concept, but also a chance to drive one, as I did in April last year. I was very impressed by the quietness of the ride, as well as how much pick up the engine had; describing the acceleration to be "like being in a rocket". This week Better Place announced pricing for its first models.
Battery charging posts (Company owned)
It has taken a while to reach this point, and although the infrastructure for recharging the car's lithium ion battery pack, as well as exchanging a run down battery for a freshly charged one is still not really in place, it appears that the Better Place car will finally be ready to go on sale, as early as mid July.
These details were released on May 15 by Better Place, and local papers in Israel talked about the company's usage pricing policy, that will be based on how much a person drives per month.
The monetary details dealing with the price of the car itself, including government tax reductions for purchasing a car that will hopefully cause less air pollution if many people drive them, works out as follows: The price of the "basic model" car, a Renault Fluence EV, without the monthly service package, is NIS 122,900 or US$ 35,623 at current exchange rates.
A more luxurious model with leather seats and other luxuries (like a special sound system, etc.) will cost the purchaser NIS 129,900 of US$37,652. The basic car model is not "stripped down" by any means, however; and will include a computerized driving and energy management system, a GPS navigation system, online hook-up to a call center, a four-year manufacturer's warranty, split climate control air conditioning, cruise control, a hook-up for mobile devices, rain sensor, and automatic lights.
Article continues: http://www.greenprophet.com/2011/05/better-place-israel-orders/