Iceland shuts main airport after volcano eruption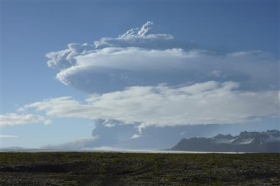 Iceland has shut its main airport after a volcanic eruption and other airports on the island are likely to close during the day, the civil aviation authority said on Sunday.

"The ash distribution forecast over the next six hours shows that the ash from the volcano will spread over Iceland today, leading to the closure of most Icelandic airports as the day goes on," the Isavia authority said in a statement.
The explosion at the Grimsvotn volcano, under the Vatnajokull glacier in southeast Iceland, came just over a year after a volcano under another glacier sent a huge plume of dust into the sky and halted European air traffic for days.

"It can be a big eruption, but it is unlikely to be like last year," Icelandic Met Office geologist Hjorleifur Sveinbjornsson told Reuters, referring to the April 2010 eruption under the Eyjafjallajokull glacier.
He said the plume from the Grimsvotn volcano, which last exploded in 2004, had been seen on radar screens as high as 15 km up, but he said the smoke was going straight up into the air.
Hjordis Gudmundsdottir, spokeswoman for the Isavia civil aviation authority, said a flight ban of 120 nautical miles had anyway been imposed around the area.
"We close the area until we know better how the ash is going to work," she said.
Domestic airline Icelandair said no traffic had been affected. "We do not expect the Grimsvotn eruption to affect air traffic to and from the country in any way," said Icelandair communications director Gudjon Arngrimsson.
Pictures on local media websites showed a thick cloud of white smoke like a mushroom cloud over surrounding mountains.
Air control authorities halted flights last year due to fears that the dust and ash from the Eyjafjallajokull glacier volcano would get into engines and cause accidents after the cloud was blown into European air traffic lanes.
Photo shows a cloud of smoke rising from the Grimsvotn volcano, under the Vatnajokull glacier in southeast Iceland May 21, 2011. Iceland's most active volcano, the Grimsvotn, erupted on Saturday and hurled a plume of smoke far into the sky, which aviation officials were closely monitoring after another volcano shut European airspace for days last year. Credit: REUTERS/Ingolfur Juliusson
Article continues: http://www.reuters.com/article/2011/05/21/us-iceland-volcano-idUSTRE74K2KP20110521