Change in season: Why salt doesn't deserve its bad rap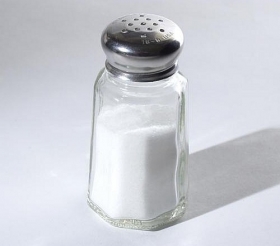 For something that's so often mixed with anti-caking agents, salt takes a lot of lumps in the American imagination. Like fat, people tend to think of it as an unnecessary additive -- something to be avoided by seeking out processed foods that are "free" of it. But also like fat, salt is an essential component of the human diet -- one that has been transformed into unhealthy forms by the food industry.
Historically, though, salt was prized. Its reputation can be found in phrases like, "Worth one's salt," meaning, "Worth one's pay," since people were often paid in salt and the word itself is derived from the Latin salarium, or salary.
Those days are long over. Doctors and dietitians, along with the USDA dietary guidelines, recommend eating a diet low in sodium to prevent high blood pressure, risk of cardiovascular disease, and stroke; and doctors have been putting their patients on low-salt diets since the 1970s. But a new study, published in the May 4 issue of The Journal of the American Medical Association (JAMA), found that low-salt diets actually increase the risk of death from heart attack and stroke -- and in fact don't prevent high blood pressure.
The study's findings inspired much criticism and controversy -- as research that challenges conventional dietary wisdom often does. When The New York Times briefly reported on it, even the title conveyed the controversy: "Low-Sat Diet Ineffective, Study Finds. Disagreement Abounds." The Times reports that the Centers for Disease Control and Prevention "felt so strongly that the study was flawed that they criticized it in an interview, something they normally do not do." According to the Times, Peter Briss, a medical director at the Centers, said that the study was small, that its subjects were young, and that they had few cardiovascular events -- making it hard to draw conclusions.
Article continues: http://www.grist.org/food/2011-05-26-change-in-season-why-salt-doesnt-deserve-its-bad-rap