American Consumers and Greener Vehicles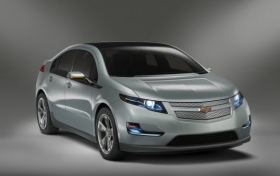 Cutting emissions from US automobiles will be critical to any strategy for slowing global warming. America's adoption of hybrids, fully electric vehicles and fuel efficient small cars are also crucial to the transition to a low carbon economy. According to an Environmental Defence study, Global Warming on the Road (pdf), US automobiles and light trucks are responsible for nearly half of all greenhouse gases emitted by automobiles globally.
The Global Warming on the Road study, also found that the Big Three American automakers—General Motors, Ford and DaimlerChrysler—accounted for nearly three-quarters of the carbon dioxide released by cars and pickup trucks on US roads. The authors of the report found that cars in the US account for a disproportionate amount of greenhouse gas emissions because they are driven farther, have lower fuel economy standards, and burn fuel with higher levels of carbon than many of the cars in other countries.
Although the switch to electric cars will be difficult, it is not without precedent in the US. In 1900, 38 percent of America's fledgling car market was electric, and only 22 percent ran on gasoline. Then throughout the twentieth century, fossil fuels dominated vehicle production.
Today vehicle demand is starting to shift away from gas power towards hybrid and electric cars. Of the 11.6 million vehicles Americans bought in 2010, 2.4 percent were hybrids and this number is growing in 2011. The US vehicle market is forecasted to grow 11 percent in 2011 lead by hybrids and clean diesels.
Sales of hybrids, diesels, and small cars are the fastest growing sector of the car market. According to an analysis from the firm Baum & Associates, sales of hybrids, small cars and diesels rose at nearly three times the rate of the market as a whole from March 2010 to March 2011. Those three vehicle categories were up 46 percent this March, while the overall market was up 17 percent.
Article continues: http://globalwarmingisreal.com/2011/06/15/american-consumers-and-greener-vehicles/