Flooding continuing along the Missouri, Souris rivers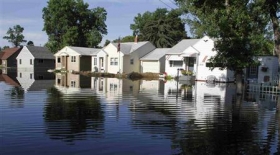 Missouri River floodwaters lapped at a nuclear power plant north of Omaha, Nebraska, on Tuesday and have cracked more defenses downstream after weeks of sustained pressure on levees running hundreds of miles.
And in Minot, North Dakota's fourth largest city, the roughly 12,000 displaced residents watched Souris River flooding slowly recede and began to look toward recovery.
Up and down the Missouri River from North Dakota to Missouri, residents on Tuesday said they were just plain tired -- tired of sandbags, tired of water, tired of worrying.
"We've just got water. And, it's not going away," said Tony Mangan, 50, whose family has lived in the South Dakota river town and capital of Pierre, since 1987.
"You sense there is a weariness out there. People are tired."
Flood defenses have protected downtown Pierre. Griffin Park and Steamboat Park at the river's edge have flooded, with water running over the amphitheater main stage at Steamboat Park.
Across from Yankton, South Dakota, Don Edwards said he has spent thousands of dollars on sandbags and rock material known as rip-rap to keep his Murdo's Aten Resort eatery open in Nebraska barely three miles downstream from Gavins Point Dam.
"The river is about 2 feet below the deck," Edwards said of the restaurant's wooden deck overlooking the Missouri River. "Normally it's about 12-15 feet below the deck."
"If it comes up any more, we are all in trouble."
Several inches of rain over the weekend caused storm sewer backups in Omaha and across the Missouri River in Council Bluffs, Iowa. Some businesses and residents were forced out on the east side of Omaha temporarily.
Federal officials said Tuesday they were reinforcing 2.1 miles of levee in Council Bluffs where they had found seepage or sand boils on a dozen sections.
At the Fort Calhoun Nuclear Power Station north of Omaha, which has been shut since April for maintenance, officials expect to replace by the end of next week an inflatable barrier that deflated on Sunday sending a rush of water toward the plant.
The breach temporarily interrupted some electrical power but emergency generators restored power later that day and there was no threat to sensitive facilities.
Photo shows homes in the morning light, reflected in flood waters, with the earthen levee of one house (center) appearing to remain intact in Minot, North Dakota, June 25, 2011.

REUTERS/Allen Fredrickson
Article continues: http://www.reuters.com/article/2011/06/29/us-flooding-plains-idUSTRE75O1U420110629