Climate change is endangering the Polar Bears, court rules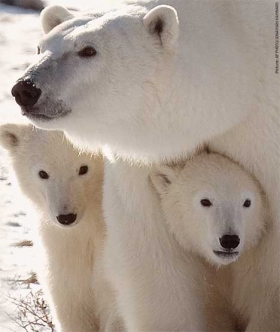 A U.S. federal judge upheld the status of polar bears as a species threatened by climate change, denying challenges by a safari club, two cattlemen's organizations and the state of Alaska.
The ruling on Thursday by District Judge Emmet Sullivan confirmed a 2008 decision that polar bears need protection under the U.S. Endangered Species Act because their icy habitat is melting away.
The legal challenges -- some contending polar bears don't need this protection, others maintaining the big white bears need more -- were launched after the U.S. Fish and Wildlife Service included this Arctic mammal on its list of threatened species.
The state of Alaska, Safari Club International and two cattlemen's groups claimed the federal government's decision to list the polar bear was "arbitrary and capricious and an abuse of agency discretion," according to a memorandum opinion released with the ruling.
On the other side, environmental groups including the Center for Biological Diversity, urged that polar bears be listed as endangered, which offers greater protection than that provided for wildlife classified as threatened.
The heart of the judge's decision was whether the Fish and Wildlife Service had made a rational decision in its 2008 listing.
The judge noted that the wildlife agency took three years to "evaluate a body of science that is both exceedingly complex and rapidly developing," considering 160,000 pages of documents and some 670,000 comments from a wide range of interested parties."
Article continues: http://www.reuters.com/article/2011/06/30/us-climate-polarbears-idUSTRE75T6CK20110630