Dr. Helen Caldicott: Fukushima Nuclear Meltdown Much Worse Than Chernobyl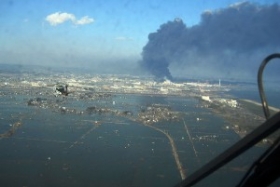 Although several months have passed since the devastating earthquake and tsunami occurred in Japan, the resulting nuclear power plant crisis, and the effect on the world environment is still far from over. The health risks caused by the meltdown of nuclear fuel rods in at least three reactors actually melting down will be felt for hundreds of years to come.
Dr. Helen Caldicott
The Fukushima nuclear plant disaster has been a clarion call for anti-nuclear activists from all over the world. One of these activists Dr. Helen Caldicott, is not prepared to be quiet as to the impact that this latest nuclear plant disaster will have on the world environment.
Dr. Caldicott, a pediatric physician by profession and Australian by nationality, has been involved for the past 33 years in trying to make people aware of the dangers of nuclear energy.
Dr Caldicott has been awarded 20 honorary doctoral degrees and was nominated for the Nobel Peace Prize by Nobel Laureate Linus Pauling. She was awarded the Lannan Foundation Prize for Cultural Freedom in 2003, and in 2006, the Peace Organisation of Australia presented her with the inaugural Australian Peace Prize "for her longstanding commitment to raising awareness about the medical and environmental hazards of the nuclear age". The Smithsonian Institution has named her as "one of the most outstanding women of the 20th Century".
What Dr. Caldicott is trying to impress upon us is that the effects of the radiation "leakage" from this disaster are ones that will not go away in a matter of months, or even years. Some forms of radiation, she says, will last for hundreds of years and will continue to cause various forms of cancer, birth defects, and other health problems for generations to come.
Article continues: http://www.greenprophet.com/2011/07/fukushima-nuclear-crisis-chernobyl/