Yellowstone River water not toxic from spill, according to EPA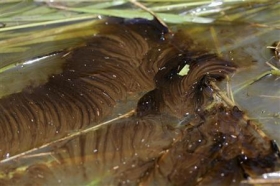 Water downstream from a ruptured Exxon Mobil pipeline that leaked oil into the Yellowstone River showed no detectable levels of toxic petroleum chemicals, according to U.S. Environmental Protection Agency documents released on Saturday.
But Montana environmental officials told Reuters that in the week since the spill at least five people have been treated at local hospital emergency rooms for symptoms including dizziness and respiratory distress after being exposed to fumes from oil.
"There could be many more," said Mary Ann Dunwell, spokeswoman for the Montana Department of Environmental Quality.
Reports of spill-related illnesses are being compiled by the state's epidemiologist.
A 12-inch Exxon pipeline carrying oil to Billings area refineries burst on July 1, dumping what the company has estimated at 1,000 barrels of petroleum into the river.
Exxon has apologized for the spill and on Friday said it had stepped up clean-up efforts.
"Our testing from the outset indicated nothing to suggest any risk to health. Exxon is pleased that the results released by the EPA confirm that no risk to health exists," Exxon spokesman Pius Rolheiser said in a statement emailed to Reuters.
Officials tested water samples, which were collected on July 4 at five sites along about 160 miles of the river corridor, for three hazardous chemicals associated with crude oil considered harmful to human health at certain levels.
A statement on EPA's website said air monitoring along the Yellowstone showed no detectable levels of cancer-causing compounds linked to petroleum products.
Photo shows oil mixed with water from the oil spill along the Yellowstone River, in Laurel, Montana, July 6, 2011. Credit: Reuters/John Warner
Article continues: http://www.reuters.com/article/2011/07/10/us-oil-spill-montana-idUSTRE76827Y20110710