Green Media Shake-Up Underway: 3BL Media Acquires Justmeans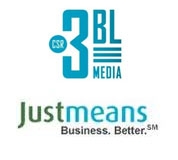 The green media landscape began what some might call an inevitable consolidation today with 3BL Media's acquisition of Justmeans. Both firms specialize in the distribution of CSR news and press releases. Justmeans focus on tracking and technical analysis of reader engagement will enhance 3BL's full service offering of distribution channels (blogs, press releases, video engagement and social media strategy). In the words of 3BL's CEO Greg Schneider, "the acquisition will bring together two robust and distinct networks of people interested in CSR and sustainability and allow us to provide even greater reach and distribution to the companies and non-profits we serve."
In the words of Martin Smith, Justmeans' CEO, in a letter to the Justmeans community:
"While the substantial challenges around sustainability have not changed much over the past decade, it is clear that there has been a dramatic shift in strategy among large cap companies as it relates to social and environmental performance...   The only way we will solve the challenges that face a world with rapidly diminishing resources is through massive collaboration: between sectors, between companies, and between governments."
That collaboration includes mergers with like minded organizations.The deal was signed for an undisclosed amount of cash and equity, as well as a reallocation of shares for the current shareholders of the two companies. No investors were taken on – the new company is owned entirely by employees.
For further information: http://www.triplepundit.com/2011/07/3bl-media-acquires-justmeans/?utm_source=feedburner&utm_medium=feed&utm_campaign=Feed%3A+TriplePundit+%28Triple+Pundit%29&utm_content=Google+Reader