Can the Indian Point nuclear power plant in NY meet proposed new water intake rules?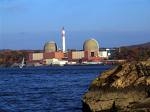 New York environmental regulators finalized rules to reduce cooling water intake by power plants and other industrial facilities to reduce fish kills by 90 percent.
But this rule is about more than just fish and water. It could lead to the shutdown of the giant Indian Point and threaten the reliability of New York City's power supply.
The state does not want to give Entergy Corp a water permit for the 2,045-megawatt Indian Point nuclear power plant unless the New Orleans-based company spends up to $2 billion to install a new water cooling system to protect fish in the Hudson River just 45 miles north of Manhattan.
Without the state water permit, the U.S. Nuclear Regulatory Commission cannot relicense Indian Point's two reactors for another 20 years.
The current reactor licenses expire in 2013 and 2015.
The shutdown of Indian Point would cause power reliability problems and boost electric prices in New York City, according to the state's power grid operator, the New York ISO, and the city's power company, Consolidated Edison.
Power plants use water to cool plant systems and condense the steam used to turn the turbine that generates electricity back into water.
"Billions of fish are killed each year when they are caught up in the intake of cooling water for industrial processes," New York Department of Environmental Conservation (DEC) Commissioner Joe Martens said in a release.
"The policy we are implementing today will reduce fish kills by 90 percent while allowing flexibility for the industry to reach our goal of protecting aquatic wildlife," he added.
The DEC said it would flexible because it recognizes that all existing facilities may not be able install a closed cycle cooling system like the one the state wants at Indian Point.
The DEC listed several existing power plants on its website that the state has allowed to modify open cycle cooling systems without installing closed cycle systems, including: NRG Energy's Dunkirk, Huntley and Arthur Kill, Entergy's FitzPatrick, GenOn Energy's Bowline, TransCanada's Ravenswood and Dynegy's Danskammer.
"Closed-cycle cooling is not always an available technology for existing facilities as issues of space availability and compatibility of new technology with the facility's original design frequently make it infeasible to implement," the DEC said.
Article continues: http://www.reuters.com/article/2011/07/20/us-utilities-entergy-indianpoint-idUSTRE76J6NB20110720