Denver: From the Brown Cloud to the Green Light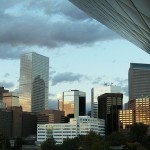 When it comes to the green energy race, it's not over until it's over. Just look at the city of Denver. For years the Mile High City was notorious for its brown cloud, a dirty layer of pollution that not only marred the city's pristine mountain image, but also caused serious health problems. Now Denver is the fifth greenest city among 27 rated in the recent US and Canada Green City Index. It falls just behind San Francisco, Vancouver, New York City and Seattle, and ahead of Boston and Los Angeles. What made the difference for Denver?
No one factor won the day, but the index highlights Greenprint Denver, a city office that coordinates environmental programs across various agencies, engages community members to further its mission, and tracks and publishes results. The program supports Denver's ambitious policies that promote green energy and energy efficiency in homes or businesses through subsidies or tax breaks, as well as projects to increase locally produced energy. Greenprint Denver is identified in the index as a best-practice model of environmental governance.
Energy
As Congress debates ways to undercut federal lighting standards, Denver is giving energy efficiency the green light – literally. In 2010 alone, the city installed 2,000 LED bulbs in 200 traffic signals.
Electricity consumption in Denver is nearly half the index average, at 184 gigajoules per $1 million of GDP. Greenprint Denver's proactive program supports several energy saving initiatives:
- Evaluation of 300 municipal buildings for solar powered installations
- Assistance to low-income households to improve the energy efficiency of their homes, including attic insulation assessments
- Strict energy regulation for new buildings
For further information: http://blog.cleantechies.com/2011/07/21/denver-brown-cloud-green-light/?utm_source=feedburner&utm_medium=feed&utm_campaign=Feed%3A+cleantechies+%28CleanTechies+Blog%29&utm_content=Google+Reader