Drought continues to worsen in southern Plains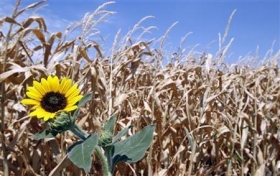 A historic drought in the southern Plains intensified in the last week and contributed to dry conditions emerging in the heart of the Midwest crop belt, a weekly climatologists' report said Thursday.
The weekly U.S. Drought Monitor, produced by a consortium of national climate experts, showed abnormally dry conditions affecting a significant area of the Midwest -- about 10 percent -- for the first time this summer.
The areas included parts of Iowa and Illinois, the top two corn- and soy-growing states that annually produce about one-third of the U.S. corn crop. Also affected were southern Wisconsin, northeast Indiana, northwest Ohio and southeast Michigan.
Texas remained the epicenter of the crisis, with "exceptional drought," the most severe drought category, gripping 75 percent of the state.
Texas climatologist John Nielsen-Gammon said it was the state's third-worst drought since 1895.
"I think all the heat that has developed out in the Plains has spilled over into the rest of the Midwest. That has certainly been a contributing factor," said Jim Angel, the state climatologist for Illinois.
However, Angel said, it would be a stretch to say the Plains drought was spreading into the Corn Belt, given sizable wet areas in between the two regions. Southern Illinois and parts of Missouri, he said, have had ample moisture.

Temperatures in the Corn Belt have topped 100 degrees Fahrenheit (38 Celsius) this week, threatening the corn crop during pollination, a key phase of growth.
Angel said the leaves of corn plants have been rolling up during the daytime, a visible sign of stress.
Because corn supplies in the United States, the world's largest producer and exporter of the grain, are projected to fall to a 16-year low by the end of August, the grain trade is counting on a large harvest this fall.
Worries about shortages helped lift corn futures on the Chicago Board of Trade to an all-time high near $8 a bushel last month.
The drying trend in the Midwest began 60 days ago, the report said. Precipitation in the last 30 days has been less than half of normal for much of eastern Iowa, northern Illinois, and Indiana.
The dry spell marks a remarkable shift from this spring, when persistent rains stalled planting in many parts of the Corn Belt, especially Indiana and Ohio.
Photo shows a brown and parched corn field showing the effects of a long Texas drought in Farmersville, Texas July 12, 2011.  Credit: Reuters/Mike Stone
Article continues: http://www.reuters.com/article/2011/07/21/us-usa-drought-plains-idUSTRE76K4T520110721