Incredible! A picture of the long lost rainbow toad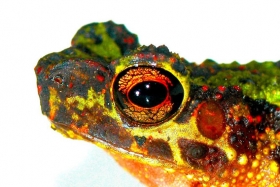 Scientists are elated after the surprise rediscovery of a wildly-colored frog not seen for 87 years and never before photographed—until now. The Bornean rainbow toad, also known as the Sambas Stream toad (Ansonia latidisca) was rediscovered on Borneo in the Malaysian state of Sarawak by local scientists inspired by a 2010 search for the world's missing amphibians by Conservation International (CI). Leading up to its search CI released the World's Top 10 Most Wanted Lost Frogs (out of a hundred being searched for): the Bornean rainbow toad was listed as number 10.
Led by Dr. Indraneil Das with Universiti Malaysia Sarawak (UNIMAS), who last years discovered a pea-sized frog in Borneo, researchers found the long-elusive Bornean rainbow toad hanging out 2 meters up a tree. The species was found at night in a little-explored area of the Gunung Penrissen mountain range. Several early expeditions failed, but once the group included higher altitudes they were actually able to locate three individuals of the long-lost toad.

Prior to its rediscovery the toad was only known from three individuals and a single black-and-white illustration made in the 1920s.

"When I saw an email with the subject 'Ansonia latidisca found' pop into my inbox I could barely believe my eyes. Attached was an image—proof in the form of the first ever photograph of the colorful and gangly tree-dwelling toad. The species was transformed in my mind from a black and white illustration to a living, colorful creature," amphibian specialist Dr. Robin Moore of Conservation International, who launched the global search for lost amphibians, said in a press release.
Unfortunately the habitat in which it is found it not currently under protection and is threatened by forest fragmentation, poaching, and resort development. Dr. Das told The New York Times that the area is currently accessible due to the construction of a resort, including an 18-hole golf course. The expedition was especially expensive because researchers had little choice in this remote area but to shell out for the resort.
Photo credit: Dr. Indraneil Das
Article continues: http://news.mongabay.com/2011/0713-hance_borneanrainbowtoad.html