NOAA Releases July Climate Assessment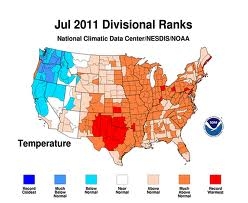 The National Oceanic and Atmospheric Administration (NOAA) has compiled and analyzed climate data for the United States in the month of July. The results will come as no surprise for many in the country, but now there is solid data to back up what we all know. In brief, it was hot, unbearably and persistently hot. Only now, a week into the month of August, has the heat begun to dissipate for the northern half of the country. The scorching July has shattered records in many places, making it the fourth warmest July on record in the US.
The average temperature across the US was 77 degrees F, 2.7 degrees higher than the long-term average (1901-2000). Precipitation averaged out to 2.46 inches, which is 0.32 inches below average, with large variability between regions.
The south central part of the country probably experienced the worst weather of all. Oklahoma and Texas each had their hottest months ever. Average temperature in the south was 86.1 degrees. July's heat wave can be characterized by exceptionally warm minimum temperatures during the nights and early mornings. No cool summer nights this month! In Dallas, Texas, the mercury went above the 100 degree mark on 30 out of 31 days. Oklahoma City had an average temperature of 89.2 degrees, beating the previous monthly record of 88.7 set back in 1936.
Across the lower 48 states, 41 states had above-normal, much-above-normal, and record warmest July. The seven states which did not were west of the Rockies. These states had normal or slightly below-normal temperatures.
Precipitation was slightly down, but very erratic throughout much of the country. For example, the Gulf Coast had wetter than normal conditions, as did the Pacific Coast, and upper Midwest. Other areas couldn't buy a drop of rain. Texas and Oklahoma coupled their extreme temperatures with one of their driest month on record. Exceptional drought covered over 75 percent of the Lone Star state and nearly 100 percent of the Sooner state. In some areas, the drought was so bad that it will take twenty inches of rain in one month to end.
The outlook for August according to NOAA's one-month outlook appears to be more of the same in some areas. The southeastern part of the country from Texas to the Carolinas will continue to be warmer than normal. Temperatures on the west coast should remain cool. Temperatures in the northeast and upper Midwest should return to normal, and the Dakotas will be cooler than normal. As for precipitation, the Texas area will still be looking at below-average rainfall.
For more information on the severe drought: http://www.drought.gov
Image credit: NOAA