NRDC: It's Not Just the Heat, It's the Smog Pollution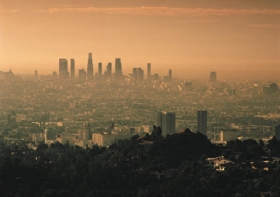 WASHINGTON (August 11, 2011) – Most of the nation – from seaside suburbs to our national parks - has experienced health-threatening "bad air" days this year due to smog pollution, according to a new analysis of government air pollution data by the Natural Resources Defense Council.
Led by California, about 250 communities and parks in nearly 40 states have experienced one or more "code orange" dangerous air days this year, making it unsafe for children, older adults and people with breathing problems to go outside.
In all, more than 2,000 "code orange" air quality alerts occurred nationwide in just the first seven months of this year, with many areas having long stretches of days with bad air due to elevated smog levels.
NRDC's analysis comes amid ongoing EPA delays for approving updated air pollution standards that could save thousands of American lives and stop tens of thousands of asthma attacks each year.
"The bottom line is that we have way too many days in way too many places when the air is unsafe for our kids," said NRDC Clean Air Director John Walke. "The EPA needs to quit stalling on tougher smog standards promised years ago and protect our children, our elderly and all of us."
Under standards set in 1997, the EPA considers air to be unhealthy if levels of ozone - the primary ingredient in smog - reach 84 parts per billion. The Bush administration lowered the ozone standard to 75 parts per billion in 2008, but ignored unanimous recommendations of its science advisors that a truly protective standard needed to be set within 60-70 parts per billion. EPA Administrator Lisa Jackson has proposed adopting more protective standards within that range, and the agency is expected to announce its decision soon.
Article continues: http://www.nrdc.org/media/2011/110811.asp