Fukushima Dai-ichi nuclear power plant may not achieve cold shutdown as soon as planned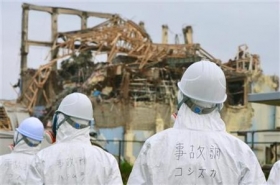 Tokyo Electric Power Co said on Wednesday that it may fail in its bid to achieve "cold shutdown" at its tsunami-hit nuclear plant in Fukushima by January, as the world's worst nuclear crisis in 25 years rumbles on.
Efforts to decontaminate highly radioactive water at the facility have been delayed by repeated breakdowns of cesium absorption instruments, which have caused water leakage and malfunctioning of pumps, threatening to delay the process of stabilizing the stricken plant.
"It's possible that decontamination may not be completed as planned by the year-end, although we have not yet decided to change the target. That could affect the cold shutdown process," a company spokesman told Reuters.
His comments follow a similar statement on Tuesday, reported in the Nikkei business daily, from Junichi Matsumoto, a Tepco spokesperson on nuclear issues.
Cold shutdown is usually defined as meaning the water in a reactor is below 100C at normal atmospheric pressure, making its radioactive fuel safe from heating up again.
Tepco also confirmed on Wednesday that it is testing a new radioactive water processing instrument as it struggles to cope with the damage wreaked by the magnitude 9.0 earthquake and tsunami that devastated Japan's northeast coast in March.
With only an estimated 42,000 tonnes of highly contaminated water having been processed by August 9, roughly 120,000 tonnes are still left in the basement in turbine buildings and elsewhere.
Tokyo Electric, or Tepco, had set a goal of processing 200,000 tonnes of radioactive water by year-end since more water will be contaminated in the process of bringing the damaged reactors under control.
Photo shows members of the Japanese government panel to investigate the accident at Fukushima nuclear power plant, inspecting the damaged building housing the No.3 reactor at the Tokyo Electric Power Company (TEPCO)'s Fukushima Dai-ichi nuclear power plant in Fukushima prefecture, in this handout picture taken by the investigation panel on June 17, 2011 and distributed by Kyodo on June 18, 2011.
Article continues: http://www.reuters.com/article/2011/08/17/us-japan-nuclear-idUSTRE77G0FT20110817