Electric Bicycle for Two Now Available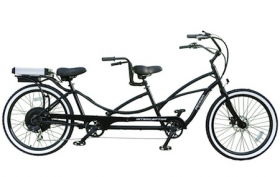 It was bound to happen, and now it's here – an electric bicycle built for two is now available to purchase for anyone looking to be a little more eco-friendly on their commute with a friend. The bike comes from the Hammacher Schlemmer company, a high-end product maker we've covered a few times for the innovative, but often pricey, electric vehicles they carry.
We first caught news of the new item over on the Envirogadget blog, and the specifications on the tandem bike are pretty nice when compared to other electric bicycles. The company claims this product is the first tandem electric bicycle, but we noted a company in Wisconsin already claimed the title earlier this year.
For further information: http://www.matternetwork.com/2011/8/electric-bicycle-two-now-available.cfm