Urine test for TB shows promise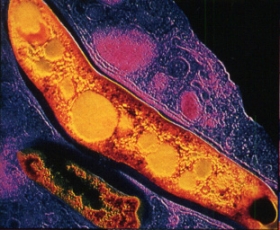 [NEW DELHI] Testing urine samples for specific chemicals could serve as a quick and painless way to detect tuberculosis, according to Indian researchers. The urine test offers a less invasive diagnostic method for an infectious disease that causes three million deaths and 10 million new cases worldwide each year. Developing countries account for 95 per cent of new infections and 98 per cent of the deaths.
The Delhi-based International Centre for Genetic Engineering and Biotechnology (ICGEB) and the Lala Ram Sarup Institute of Tuberculosis and Respiratory Diseases, joined the National University of Singapore to develop the test.
The test measures five specific chemicals present in urine, the researchers reported last month (July 2011) in Analytical Chemistry, published by the American Chemical Society.
TB diagnosis relies mainly on a test to detect Mycobacterium tuberculosis in blood or sputum samples taken from the lung and examined under a microscope.
Diagnostic tests based on 'serum' — the clear liquid separated from clotted blood — are not sensitive, especially in people vaccinated against TB.
Drug-resistant cases need an expensive, sophisticated test that takes two weeks of culturing blood samples to detect the bacterium.
Developing countries prefer a simple test requiring minimum resources and trained personnel, and one that gives quick and easily interpreted results, the Delhi scientists observed.
Article continues: http://www.scidev.net/en/news/urine-test-for-tb-shows-promise.html
Image credit: University of Wisconsin-Madison