Not Refueling is Reason Enough to Rent an EV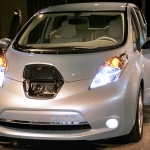 Hertz is turning over a new Leaf (or ten, to be exact) by expanding its rental fleet in San Francisco to include electric vehicles (EVs) from Nissan. The rental agency is adding ten of the cars to its fleet and has introduced an electric car sharing service that can take some of the hassle out of renting a car. Rich Broome, Hertz's Senior Vice President of Corporate Communications, said the Leafs will be available for around $40 per day or for $8-10 per hour through the On Demand car sharing program. This is a reasonable price for consumers to test out an electric vehicle and, as we predicted, many folks will get their first taste of driving electric behind the wheel of someone else's vehicle.
Hertz is enabling customers to maximize their EV mileage by making the vehicles and free charging available at hotels (beginning with the San Francisco Airport Marriott) and rental offices. Broome said that Hertz is working with corporate customers to create EV loops for business travelers in which they can get access to charging at the airport, the hotel, and at the office.
The convenience of not needing to recharge the vehicles is worth any extra cost for many travelers. As anyone who rents vehicles knows, taking time out to refuel the car is inconvenient or can add an expensive surcharge if you're running late. Starting and finishing each day with a fully charged vehicle is a benefit that is sure to lure some folks to hotels that offer the service. It also makes workers more productive by eliminating a time sink and the associated stress of wondering where the gas station is in an unfamiliar location.
For further information: http://blog.cleantechies.com/2011/08/25/not-refueling-is-reason-enough-to-rent-an-ev/?utm_source=feedburner&utm_medium=feed&utm_campaign=Feed%3A+cleantechies+%28CleanTechies+Blog%29&utm_content=Google+Reader